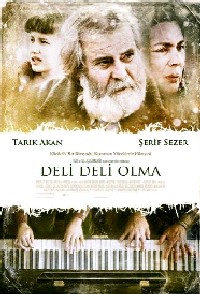 See movie trailer (2.5 min).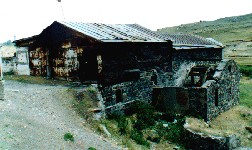 Molokan watermill near Kars, not used in the move. Photo by Erkan Karagöz, a consultant on this film.

Movie begins with migration.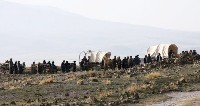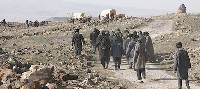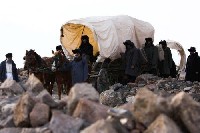 Molokans migrate to Kars.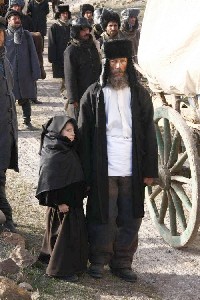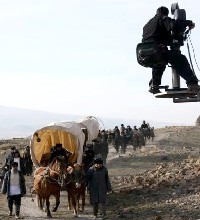 Camera on crane filming Molokan wagon train.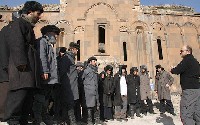 Directing actors playing the Molokans at Ani ruins.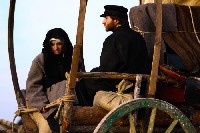 Mishka's parents with piano.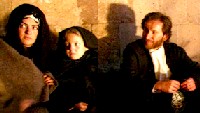 Mishka's family at campfire.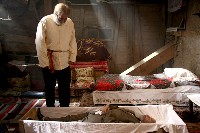 Mishka's cousin soon dies, leaving him the last Russian.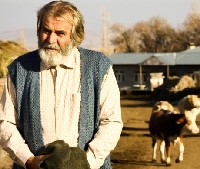 Mishka with cows.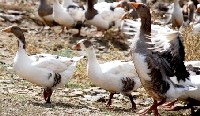 Local geese actors.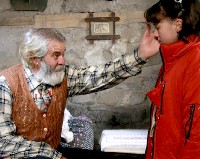 Mishka's mill-house shows Molokan photos, embroidery, rugs, etc.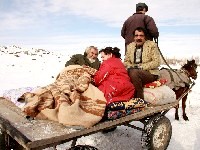 Dying Mishka is cared for by
Alma's family while Popuch is out of town.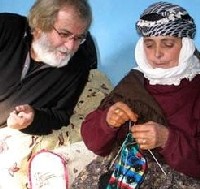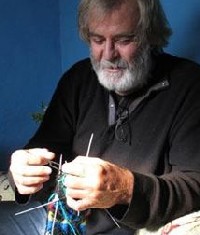 Akan learns to knit his socks in the Molokan-style from woman who knew Molokans.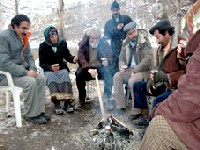 Actors, crew and reporters resting around a fire.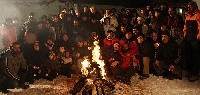 Last day shashlik barbeque party with villagers, cast and crew.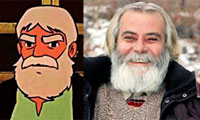 Mishka was compared to Heidi's grandfather Alp.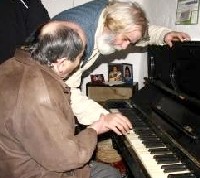 Alan took piano lessons too.

Title in Turkish: "Are you Crazy Crazy" (Deli Deli Olma), English: "Piano Girl", Russian: Don't be Mad" (Не сходи с ума).

135 minutes. High Definition. Should be rated "R" (Restricted) for profanity. Nearly everyone including kids cuss intensely by American standards.

DVD in Turkish with English and French subtitles, $26 from Tulumba.com, New York. See instructions below.





This is a somewhat musical, fictional comedy set in a rustic Turkish village near Kars, Turkey, in the 1970s.





Update Feb 5, 2010 — The first thorough review in English was posted by "shutterbug_iconium from Türkiye" on Blogspot.com and International Movie Database (IMDb). With good English (some typos) he writes a substantive critique from a Turkish perspective. He clarifies the phrase "yeke kishi" (literally "big man"), tranlated in the English subtitles as "Molokan", though the Turkish word for Molokan is "Malakan", and plural Molokans is "Malakanlar". The phrase "yeke kishi" is used more than "Malakan" in the movie.

After summarizing the movie and praising the kid actors, he concludes:


... the movie could have told more about Molokan people, the people who called themselves "true Spiritual Christians", instead of giving a sneak preview of their life. In the movie the only thing we see about these people is a funeral rite and a few Easter eggs.

[There were other Molokan items.]

What I mean is that if you do not do some reading after seeing the movie you will still not know much about these people but that does not prevent this movie from emerging as a sweet, humanitarian, dramatic and even an entertaining movie.
---
Update February 4, 2010 — Movie is available on DVD in Turkish, with English and French subtitles, for $26 (free next day shipping) from Tulumba.com (New York). Note that the DVD is formated for Region 2 Code (Europe) but can be played in the US on some compatible players and computers. For $14 you can also buy the Turkish only version.

The DVD with English subtitles can be seen very well on your home computer using VLC Media Player, a free, open-source download.



To select the English subtitles when playing the DVD:



On opening screen

: Click on the third selection at the bottom:
"

Ses ve altyazı

" (Audio and subtitle).



Next screen

: On the third line, click on the first item:
"

ALTYAZI: ingilizce

" (SUBTITLE: English),
then click on the first item of the last line:
"

Filmi başlat

" (Start film).


When the movie starts, you should recognize the universal symbol buttons for
play, pause, stop, fast-forward, etc.

Pirated versions of this movie can be found online, usually in 4 parts which need to be combined, or played separately. An English subtitle file can also be found, downloaded and added, which is how Tanetomo (next) saw the film he reviewed.

---
Update January 24, 2010 — Movie Review in Russian by Tanetomo, Tanetomo's Journal, Marginal Notes (LiveJournal.com), an amatuer film critic. Translated.

---
Update October 30, 2009 — Movie won Best Music award (US$14,000) and got a standing ovation at the 46th annual Antalya Altın Portakal (Golden Orange) International Film Festival, Turkey's oldest film festival, and is entered in the Bursa International Silk Road Film Festival. New English title: "Piano Girl", not yet available in the US.

Altın Portakal Festival program (Flash program) shows "Piano Girl" screened in AKM Aspendos Hall, at 20:30 (10:30 p.m.) Monday, October 12.

---
Update April 27, 2009 — The most personal review of this movie was published yesterday by attorney, author, and Molokan historian Erkan Karagöz.

---
Update April 25, 2009 — Movie reviews are showing low audience attendance and confusion about orgins of Molokans. Most comments are very postiive. One is from a guy who gew up with a Molokan neighbor.

---
Update April 24, 2009 — ErkanKaragöZ sends a correction.

---
Update April 5, 2009 — Two Molokans in Turkey, brother and sister, Ivan Denisenko and Ludmila Denisenko sent comments about the accuracy of this movie.

---
Update April 3, 2009 — This first fictional film about Molokans is to be released nation-wide in Turkey on April 17, 2009. It is now in post-production, so information is somewhat limited. Erkan Karagöz reports on March 29, 2009 that selection of Molokan singing for the sound background editing is in-progress.
[But, no Molokan singing or Russian music appears in the final movie.]

---
Update Sept. 2009, Vedat Akçayöz (

Ukchuyez

) writes that he was a technical consultant for the movie and he played in the film. His role was a teacher at the music conservatory.

---
Most of what has been released so far has been summarized here, probably with some errors, from many Turkish press reports, blogs and the film website. See a story board summary from the actual film — in-progress.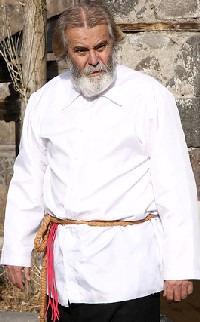 Official Summary:

A warm story in a village of Kars ... like a story speaking another language, but a moment away from us but our people ... Two lovely village child; Alma and Rabbit... And a Malakan who's family has been migrated when he was a child from Russia: Miska ... Miska's youth love, a very angry and elderly woman Popuç ... Popuc's crowded, cheerful, animated family against Miska's loneleness ...

After the Russian '93 War (which was between Russia and Ottoman Empire) Malakan society, a part of the Russian nation, are forced to migrate to Kars including Miska's (Tarık Akan) family.

As Miska grows old in Kars and operating the only mill in the village he fells into financial difficulties at his seventies after the modern machines came out.

The cranky old woman of the village Popuç (Şerif Sezer), hates Miska and does not want him to live in their village. But the villagers do not see a harm in benevolent Miska, even like him so they don't chooese any side between Miska and Popuc.

Popuç, lives with his son Semistan (Levent Tulen), daughter in law Figen (Zuhal Topal), and three grandchildren. The smallest and wayward of her granddaughters Alma, who is a affectionate girl and has a good musical ear congenital.

Alma's teacher, Metin, recognizes the ability of Alma and thinks that it must be evaluated. There is a warm friendship between Alma and Miska. Alma enters Conservatory exams as a result of the teacher's work ...

Meanwhile Miska gets sick and they talk in the village that he will die soon. And finally two old people Miska and Pabuc question their histories and big secrets are spilled.



If you did not know the history of Kars sectarians, and read much about this movie, you would have to watch it again to catch the subtle hints in the quick flashbacks, story links, and many scenes will have little meaning. If you do not know Russian culture or Molokan traditions, you could be misled. I hope the Turkish village culture is accurate.



History Summary



During the 40 years (1878- 1918) that the Russia Empire controled Kars Oblast (now Kars province), thousands of sectarians were resettled from the Caucasus (Doukhobors, Molokans, Germans, Kassaks ...) to live among Turks, Kurds, Armenians, and other tribes. Hundreds of Old Believers (Nekrasov Cossacks) had already been in western Turkey since 1740, in their own isolated village on the south shore of Birds Lake (Lake Manyas), 85 miles southwest of Istanbul.

The most thorough treatise to date about how and why sectarians were relocated from Russia to the newly conquered Caucasus, then to Kars Oblast, is Breyfogle's: "Heretics and Colonizers: Religious dissent and Russian colonization of Transcausasia, 1830-1890s" (1998 Ph.D. thesis:, 387 pages). Less than a fourth of all Molokans moved to the Caucasus (Major Molokan Settlement Areas: 1909 Russian Census), only a few thousand lived in Kars Olbast. Oblast is an administrative division.

In 1895, Doukhbors in the Caucasus staged a 3-site protest against the military by burning guns. One of the sites was 35 miles northeast of Kars. Though 100s of Doukhobors were slaughtered in nearby provinces by the Russian army as punishement, none in the Kars area were killed. World-wide news caused intervention by the Society of Friends (Quakers) and a huge donation by Count Leo Tolstoy. By 1900, most Doukhobors in Kars, along with one-third of all Doukhobors in Russia, migrated to central Canada. Neighboring Molokans and Jumpers apparently were not punished.

After the Russian Revolution in 1919, Kars Oblast was returned to Turkey. Most sectarians stayed until the 1921-1925 Soviet-Turkish treaties of friendship, neutrality and mutual non-aggression when ethnic Russians were invited back to their Motherland. Most were resettled in Tselina district, Rostov oblast, where many descendants live today. It is not yet know how many, if any, Doukhobors remained in Turkey.

By 1930, it appears that less than a thousand sectarians remained in Turkey. They were now controlled by the first president, Muslim dictator Ataturk, who ordered national dress, language and names (examples: Koroliov became Boyar, Dobrinin is now Dabrenil).

In 1962 during the Cuban missle crises, the remaining Russians (mostly Old Believers, with about 1500 Molokans, Jumpers, and a new sect, the Spirit and Life users) were resettled to the North Caucasus, mainly Stavropol' territory (

krai

) and Astrakhanka. Today Old Believers from Turkey live next near and often work and know Molokans and Jumpers in Levokumka district, northeast Stavropol' Province; in Woodburn, central Oregon; and Rio Negro district, west-central Uruguay.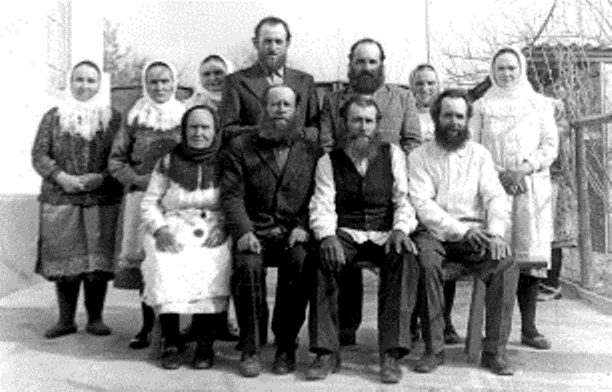 Movie Review



The movie opens with the Russian Molokan migration passing through the Ani Ruins of the Ottoman Empire, about 10 miles driving east from Eşmeyazı village, the main film location Thought sectarians never lived in this village and it may not have a mill, it was chosen for it's ruralness and closness to Kars. The film crew needed hotel rooms and restaurants.

The Ani Ruins are 30 miles from Kars and 5 miles from the Armenian border. This was once the capital of ancient Armenia (Kars was capital before 971, Erevan after 1410). It was on one of the Silk Roads, and had ~200 churches. Lots of history.

Though the Ani Ruins are not along the road which Molokans migrated to Kars, it was chosen as background by the movie director to clue the Turkish audience to the geographic location of the movie with images, not words. The map below shows that most sectarians settled along the train and main highway from what are now the Republics of northern Armenia and Georgia.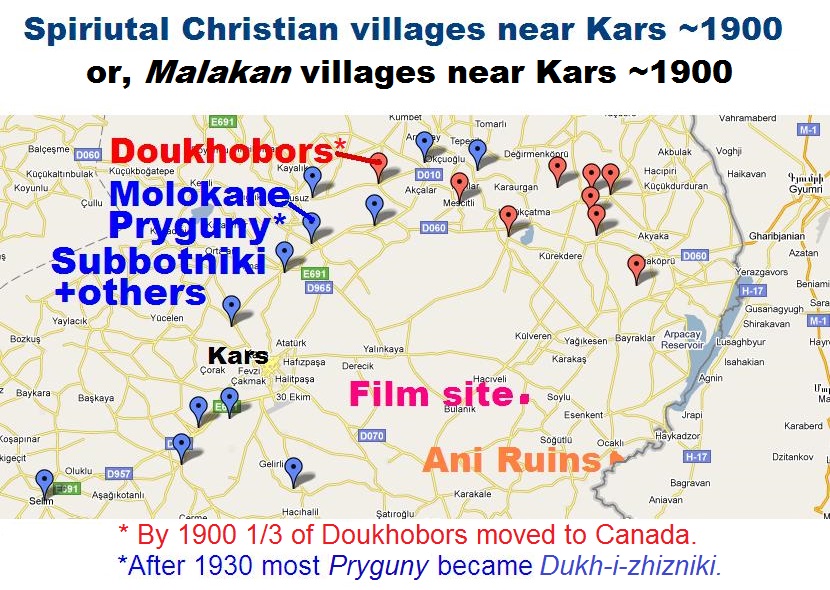 Adaped from Kars Doukhobor and Molokan Villages, 1879-1921, by Jonathan Kalmakoff, 2009. Also see: Doukhobor and Molokan Settlements in Kars Province, Russia, 1879-1899.

Three wagons are shown in the beginning of the movie, but Molokans probably had one or two wagons per family, because sectarians in the Caucasus had huge contracts to build and drive wagons for the military, the Tsar banned Jews from the transportation busines in the Caucasus, and the railroads replaced wagon long-haul commerce. Old working wagons are hard to find, and this is a low budget film.

Unfortunately no Russian music or Molokan singing was used, though an e-mail (below) indicated it was considered. Maybe the film producers were afraid of possible copyright problems, which is unfortunate, because psalm and hymn singing is central to Molokan culture. Hymns would cetainly have been sung as they traveled and been good background sound. The movie was awarded for the Turkish folk music.

The wagon train of Molokan imigrants camps at the Ani Ruins, which probably never happened considering their actual routes and villages.

The only Russian words spoken are and very little Russian language, which is unfortunate. But the budget is small, and the producers apparently did not reach out for more Russian language help. Consider how poorly Hollywood showed minorities in America, like Indians, even with much larger budgets.

It was filmed in December 2008 in real snow, so cold that in many indoor scenes the actors' breath vapor is obvious.

The interaction of a lone Russian old man with his Turkish Muslim neighbors who try to do the right things is interesting, funny and entertaining. The Russian happens to be a Molokan, but he could have been be from any other local culture.

Molokan history in Turkey has been in the press in the past decade which probably led to this fictional story.

As other reviewers have summarized in Turkish, the piano has a major role, equal to the poor old Russian, the angry old Turkish woman or her grand-daughter.

The Turkish bağlama (folk lute guiltar) is featured more than the piano, probably because the Turkish actors knew it and to show Turkish culture, particularly singing without touching lips.

The actors center of the story could be the piano, the young girl, the old Russian, or the


Young Mishka falls in love with a pretty Turkish girl Popuch, but he cannot leave his family to run away with her. She is hurt and angry with him the rest of her life.

The movie is set in the 1970s. Mishka buries his cousin. He no longer operates the only mill in their village near Kars and is the last Molokan. Poor, he sells apples because he has the only tree, yet cannot pay his credit at the store run by Popuch's son-in-law.

The very cranky, cussing old woman of the village Popuch, hates Mishka and does not want that "God damn" Russian infidel in their village. But the villagers feel sorry for Mishka and try to help him in his old age, while Popuch cusses out anyone who tries to help Mishka, mostly her own family.

Popuch, lives with her son Shemistan, daughter in law Figen, and three grandchildren. The smallest and wayward of her grand-daughters Alma has a natural ear for music.

Alma's teacher, Metin, recognizes Alma's musical ability and thinks it must be evaluated in Kars. Alma discoveres by accident that Mishka has a piano and he invites her in to practice. Alma adopts Mishka as her grandfather. Her teacher gets Alma an audition at the music school in Kars and she is accepted. The village and Mishka are very happy for her, but Popuch wants her to stay home to "milk the cow". Her family must move to the city without Popuch.

Parallel to the In the meantime, Popuch discovers Mishka has not paid his credit at the store and demands money. Mishka pays with his piano,

Meanwhile Mishka gets sick and they talk in the village that he will die soon. And finally two old people Miska and Popuch question their histories and big secrets are revealed.

The new Turkish film "Deli Deli Olma" is about a Molokan man, Mishka (Mike, no last name), who operates and lives in his family's old water-powered flour mill near Kars, Turkey in the 1970s. He is the last Molokan left in his village and can no longer continue to operate the mill. He is miserable with no family nearby, out of work, and a village woman hates him. He has dreams and flashbacks of his life in Kars. Mishka finds a new purpose in his aging life with his old piano and a young music student.

The movie title can be translated from Turkish into English as: "Are you crazy crazy", "Crazy Rave", "Mad Rave", or "Really crazy". "Deli Deli Olma" is a fictional film showing how Molokans are remembered in Kars. The theme is unfulfilled love, wrapped with authentic history of Molokans and rural village life of the area.

The star, Mishka, and his father (or uncle) stayed in Kars region while most all relatives, Molokans and Jumpers, moved to Russia in 1961-62. Mishka is the only Molokan character for the entire film. His father (or uncle) dies early in the film in a flashback. There's a wagon train of Molokans who appear to be arriving in Kars in a flashback, judging by the older wagons.

There's tension between Mishka and some relatives over past events. As the story evolves, two old histories are questioned and secrets revealed.

Mishka is a stereotypical Molokan man as remembered in Kars, with a white beard, hair parted in middle, who operates the old water-driven flour mill built by his family. He's the last remaining Russian in a Turkish village. He has photos and flashback dreams of his departed family and childhood. The film is about Mishka's life, his ups and downs, and love — of course, its a movie.

Now alone, Mishka can no longer compete with new electric milling technology and is out of business. He gets sick and perhaps dies at the end of the film. In between this dramatic tragedy is a comical love story. See movie video trailer (2 min, 37 sec).

After shutting down the mill, Mishka gets poorer. He sells apples. Mostly old people remain in his village, and he gets a little

sympathy

from his neighbors. He is especially hated by the cranky old woman Popuch (played by Sherif Sezer, a Turkish actress). Mishka can no longer tolerate living in his home village and wants to move. But, where to? This is his lifetime hometown.

The lead role of Mishka as a 70 year-old Molokan is played by Turkish actor Tarik Akan who is 62 years old. Akan has a feeling for the people and knew the locations well. He attended elementary school nearby in Ardahan, were Molokans once lived, and visited Kars and the surrounding villages many times in his youth. It's reported that Molokans in Kars personally helped him act and talk like a Russian Molokan, and authenticate the film. [See Ivan's comments below.]

With nothing else to do, Mishka decides to learn to play his piano again. He attended the Kars music academy for 6 weeks in his youth before his family left for Russia. He retrieves his old piano stored in the barn, used as part of a fence to keep the cows in, covered with hay. Mishka finds joy in playing the piano. Then he finds a purpose in life by helping Alma, the youngest grand-child of his enemy Popuch. Alma has a talent for music which she inherited from her father.

Mishka's loans his piano so Alma can take piano lessons. The neighbors love the new entertainment, but Popuch hates the piano and Mishka for wasting Alma's time with piano lessons. Popuch attacks Mishka and goes on a rampage to destroy the piano.

Akan actually plays the piano in the film because he was coached by the Kars Music Conservatory between fiming his scenes. During promotion, Akan visited music schools.Vedat Akçayöz (

Ukchuyez

) writes that he was a technical consultant for the movie and he played in the film. His role was a teacher at the music conservatory.

The story gets interesting and complex with flashback scenes of Mishka and Popuch in their youth when they fell in love. They could not continue their romance because they were from different cultures and religions, and never married.

Though Popuch is against her grand-daughter Alma studying music, with the support of the village and hard work, the talented Alma earns a seat in the Kars Music Conservatory, and a way out of the village into the modern world. Local Molokans report there is no such conservatory in Kars.

After their secret former romance is revealed, Mishka and Popuch forgive each other, but Mishka becomes ill and is dying. The ending is not yet revealed but it appears from the film trailer and images posted that Mishka is taken by Alma's family to Russia to die with his relatives there, which could explain why he is riding in the wagon lying down near the end.

Most actors appear to be Turks, and some of European origin. It is not revealed yet if any Molokans or descendants of Molokans appear in the film, but it is reported that many local Molokans helped with the dress, costumes, set design, props, locations, story line and singing.

The film shows the actual rustic rural life in Turkey at that time for most Molokans. Roads are not paved. Transportation is by horse or on foot. Modern appliances are mostly absent. Alma has a TV. Farm animals abound: cows, sheep, geese, chickens. Buildings are of rock, adobe (mud brick), heated by fire.

The snow scenes were produced outdoors in weather as cold as minus 30 degrees Celsius (-22° F), tough for the film crew and actors who only wore authentic clothing for the scenes, then had to bundle up in heavier coats and stand near electric heaters and fires. Akan said he kept warm by drinking a lot of hot tea, realistic for a Molokan, and roasted potatoes in the fire coals. The snow is real and weather much colder than it looks, even inside.

Historic accuracy was a high priority. The costumes are authentic or close reproductions of Molokan styles, and fabric. Some were loaned by local Molokans and residents. The local people in Kars and Çalgavur (Chakmak) helped sew and knit the wardrobe, socks, Russian shirts with rope belts, cardigan sweaters and coats in the Molokan-style. [See Molokan items below.] Some authentic clothes and photos were loaned and used in the film. A local Turkish woman taught lead actor Alan how Molokans knitted their socks.

Information about Molokans in Turkey has increased in Turkey recently. News articles, several books, a 2008 photo exhibit and documentary film about Molokans and Jumpers in Kars researched and produced by Vedat Akçayöz have highlighted the fact that Turks recognize how their life and culture in Eastern Anatolia, particularly in the Kars region, has been enhanced by the Russian sectarians who moved there more than 100 years ago. See more about Molokans and Jumpers in Turkey

The Russian sectarians created a different culture in this region of Turkey by bringing new technology, soap making, Gruyère cheese (a Swiss-type now called Kars Gravyeri), new agriculture, food plants, electricity, new breeds of the "Malakan" horse and "Malakan" dairy cow, and other lasting changes. Many of the abandoned Russian buildings are still in use.

In a interview published on Dec 28, 2008 Akan says that Molokans were "... very resourceful for Kars. They bought the first gravyer cheese, potatoes, flour mills, beekeeping, and their agriculture with them." He also said his character is from the Crimea, the "Milky Waters" region of the South Ukraine. He also said he met and talked with two Molokan families now living in Kars, and they helped authenticate the costumes, background and story.

For viewers not familiar with Molokans, the film notes that Russian sectarians separated from the Orthodox and moved into Kars province during the Russian invasion of Turkey in the 1877-78, and they went back to Russia in 1961. Probably not stated in the film is the fact that sectarians actually moved out in waves — in 1899-1900 (many Doukhobors to Canada), 1905-1912 (Molokans and Jumpers to the US), ~1926 (Russian sectarians to east Rostov, USSR), and 1961-62 (most all Old Believers, Molokans and Jumpers to north Stavropol' and Astrakhan provinces, USSR).

In an interview published January 29, 2009, lead actor Akan states that he extensively researched the character for accuracy "... all the colors ... of the Molokans hair to the shoes ... A Molokan who watches this movie, will not find an error." [See Ivan's comments below.]

Akan was also told: "Now there are about 3 million Molokans in the world, some in Turkey." There should be that many descendants of Molokans in the world, but much less identify themselves as ethnic Molokans, and only about 15,000 regularly participate in Molokan and Jumper religious worship service around the world.

Akan continues: " ... the basis of the piano is to tell the story of the journey. Together they show a sense of life, human love, and loneliness which is a host to many emotions." He then voices his opinion, shared by many Turks, about the government forcing the Russians out of their country. "Here in Turkey there were policy mistakes against minorities. If they were not sent to Russia in 1962, thousands of Molokans would now be in Erzurum, Ardahan, and Hopa. Today our geography would be ten times more beautiful. These people were more prosperous and a pleasant experience. Of course we can not prove it, because they are not living here today, we can only speculate. But they have left and we have their culture in this film. ... We are telling you something very true. ... to love the beauties of the minority culture. We're telling people to love each other ..."

The village scenes were actually filmed 18 miles (29 km) east of Kars in Eşmeyazı village. No Russian sectarians lived there, but the village provided a good typical rustic example and close to Kars city. Molokans and Jumpers lived in valleys north and south of Kars city.

"Deli Deli Olma" a film drama produced in Kars, Turkey, opens April 17, 2009, in theaters across Turkey. Filming started December 3, 2008, and was completed in 5 weeks, on January 6, 2009. Well-know Turkish actors Şerif Sezer and Tarık Akan have leading roles. The roles of them as youth were played by their own real children. Written by Yılmaz Güney and Şerif Sezer. Directed by Murat Saraçoğlu. Cost $2 million. Distributed by Pinema Productions.

The Turkish entertainment press reports that the lead actors in this film, Akan and Shezer, were last paired in a love story 28 years ago in a popular film "Yol" ("Road"). This is their third film together. In this film the young actors that played them in their youth are actually their own children in their first movie roles. The idea for the kids to play the parents came from the kids' siblings.

Akan promoted education by visiting schools in the area, telling kids that he also went to school in Kars region and urged the kids to read more and continue their education. Music schools got a boost from the film.

Some newspapers reported that Mishka looks like grandfather Alp in the popular Turkish version of the illustrated children's book "Heidi" written by Johanna Spyri in 1880. Heidi is required student reading in Turkey, has been made into many movies since 1920, and translated around the world.

---
E-mail from Molokans and Friends in Turkey

From Ludmila Denisenko [Ivan's sister, West Turkey]
Date Sat, Apr 4, 2009 at 11:08 AM
Subject Re: Deli Deli Olma

Although it is a very good thing a Molokan story is put on film; but I am very sorry and afraid that the film may have inevitable errors. They never tried to consult anybody [among us Molokans].



Let's be positive and wait
Ludmila

---

From: Ivan Denisenko [Ludmila's brother, Istanbul]
Date Sun, Apr 5, 2009 at 6:39 AM
Subject Re: Deli Deli Olma



New Movie About Molokans in Kars, Turkey


Dear Andrey Conovaloff,

There are several mistakes on this statement :

After the Russian 1893 War >>> should be 1877-78 (common mistake made even by historians; this last war is known as '93 war' but! it's not 1893 ! )


Mishka decides to learn to play his piano again,, >>> Molokans were playing piano in Kars vilages ? My point of view : this is unreal !


Kars music academy >>> never existed ! but as far as I know there were 'Public Houses' where young people learnt to play piano, violin etc. after Ataturk's revolution.
They made the movie by themselves without asking people which may reveal the true historical conditions and give them working advice. Well, this is Turkish way of working. Maybe good intensions but the result is generally mediocre.

Again on: Sun, Apr 5, 2009 at 5:24 PM

There's another point I forgot to mention :


'' The Russian sectarians created a different culture in this region of Turkey by bringing new technology, soap making, Gruyère cheese (a Swiss-type now called Kars Gravyeri) ''



Very different people from different origins lived in Kars as well as Molokans.
Jewish, Greek, Estonian, German... Probably this very famous Kars Gruyère cheese is brought by Germans and not Molokans. Have to prove I'm wrong !

[In Turkdoghan's 1962 PhD thesis,

published in 1972

and

republished in 2005

, he credits Molokans with introducing Gruyère cheese to Kars province.— Andrei]



Well, we are not talking about Stone Age, not to be able to reach the correct knowledge is inadmissible. Turks used to say : '' Atarsan destekli at ''.

I wish you a very nice spring, Thank you for giving me the news !



Ivan Denisenko

---
From: erkan karagoz <aequitas44@gmail.com>
Date: Fri, 24 Apr 2009

Thanks a lot for your reply and for the information

[links to Molokan singing]

. The company that has made the film has got nothing to do with me; I don't know them, and they don't know me and I was NOT the consultant of the film

[Deleted above]

. They didn't ask me anything about the film during the production of it. But when it came to the music, songs, they have been told that it would be right to ask Erkan K. about the copyrights of the music as he is one of the best to know about the Molokans. That's why they came in touch with me and I asked you for some information.

Luckily, that has been very useful. According to the information you gave, the music is the music of the Molokans who lived in Kars. And that's really important for the film. Thank you very much, ...

... As far as I know, at that time, the Molokans in Kars weren't interested in music, especially in the piano, because of their religious belief.
--
Avukat ErkanKaragöZ
Aequitas Hukuk-danışmanlık
0-212-2342915 -2196453-
Fax:231 07 51
0532-2231950-0535 2885853

Halaskargazi cad.Saksı sok.13/3
Şişli-İstanbul
http://erkankaragoz.com


---
More later ...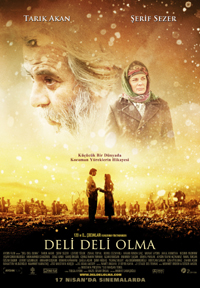 Translation of DVD cover and poster: (
actors) Tarik Alan, Sherif Sezer; (t
heme) A small world, The Story of a huge heart; (t
itle) Crazy Rave.

See movie trailer (2.5 min).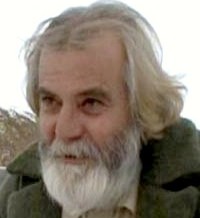 Mishka the Molokan miller is played by actor Tarik Akan.



Popuch and Mishka.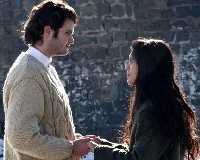 Young Mishka and Popuch, played by the older actors' kids.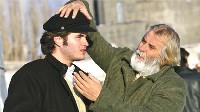 Young Mishka is played by the lead actor's actual son.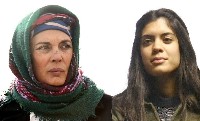 Young Popuch is played by the lead actresses' actual daughter.



Third movie with lead actors together, first roles for kids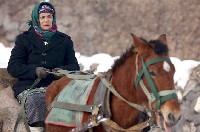 Popuch on one-horse wagon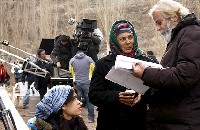 Lead actors check script on set.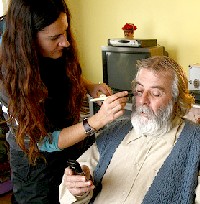 Makeup, checking messages.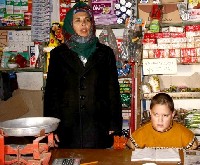 Popuch in their village store.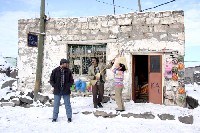 Alma's father joking outside their store, playing a broom.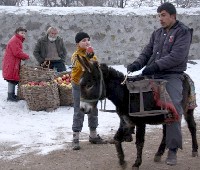 Kids help Mishka sell apples.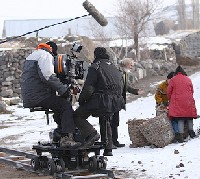 Camera dolly set for street scene of apple stand.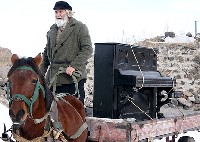 Mishka pays debt with piano.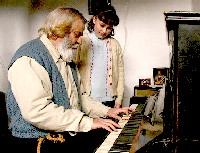 Piano lesson.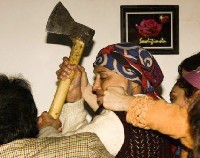 Popuch tries to destroy piano.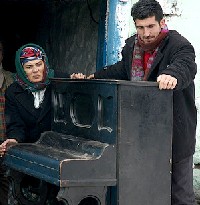 Popuch throws out the piano she hates.