One of the unique hallmarks of Glendale is its Russian community, first lured to Arizona with the promise of land and the freedom to practice their Spiritual Christian faiths

Molokan religion

. The

Pryguny

Molokans

(

"Milk Drinkers"

"Jumpers"

in Russian) were a dissident group which broke from the Russian Orthodox Church and were much influenced by the

Mennonite Jumpers and

Quakers.

The first members of the Russian colony arrived from California by train in 1911 and settled on farms some two miles west of the Glendale townsite. There were Tolmachoffs and Popoffs; Treguboffs, Kulikoffs and Conovaloffs; the men wearing long beards and the women shrouded in ankle-length dresses. They were brought to Glendale by the Greene and Griffin real estate firm, which had arranged for the Russians to pay for their land partly in cash and partly in the sugar beets they grew for processing in Glendale's Beet Sugar Factory.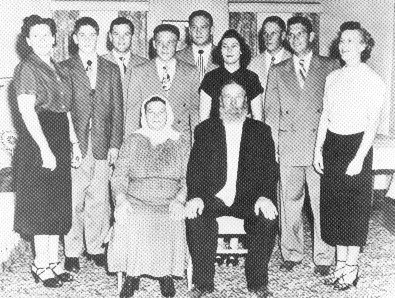 As a part of the Russian migration in 1911, the Treguboffs played a valued part in the Russian community as well as in Glendale's agricultural community. Courtesy, Treguboff Collection
[* Omitted: Gozdiff, Papin, Prohoroff, Shubin, Teckenoff, Uraine and Veronin families which remain in 1990. The original 200 families include Valov, Pivovaroff, Galitzen, Rudometkin, Kotoff, Mendrin, Slevkoff, Bogdanoff, Susoeff, ...]

One of the largest parties of settlers ever brought into the Salt River valley started from Los Angeles at 2 o'clock this afternoon over the Santa Fe, bound for Glendale. In the party are about 170 adult Russians, together with the members of their families, all eager to reach the land of promise and of health.

Numbered among the men of the party are farmers, carpenters, painters, blacksmiths, and common laborers ... they will find ready employment when not engaged in tilling their own soil.

Arizona Gazette
Aug. 30, 1911
The Russian immigrants did not mix readily at first with Glendale residents, and their unfamiliar

language and

customs and religion made assimilation difficult. But their ways were eventually accepted, and soon they became an integral part of the community. Approximately 20 families remain in Glendale today.

Alex Popoff and Jim Treguboff were famed athletes at Glendale Union High School, and many others made their marks. Nationally famous athletes include Olympic diver Michael Galitzen, his brother AAU diver Johhny Galitzen, and baseball player Lou Novikoff. Mary Tolmachoff married noted developer John F. Long, who named his planned community of Maryvale (now a part of both Glendale and Phoenix) after his wife and donated land for the Glendale Airport among many contributions.