Columbus of hidden Jews
He wanders Amazon jungles, travels to Chinese villages, searches Spain for Marranos, and sees India's Bnei Menashe as his life's mission. Michael Freund has an obsession: Discovering remote Jews



Ynetnews, January 25, 2011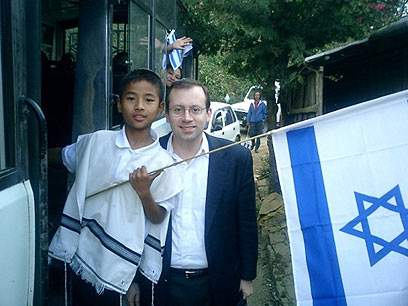 Freund with 'Bnei Moshe' (the children of Moses) — isolated Inca Jews in Trujillo village, Peru, where men wear kippahs, yarmulke. They singing songs in Hebrew, built a kibbutz, and synagogue.

And that is not Freund's only success. A number of years ago he visited the village of Vysoky in a remote part of southern

Russia

, in order to learn first-hand about the

Subbotnik Jews

– descendants of a group of

Russian

peasants who converted to Judaism over two centuries ago

(not to be confused with

Subbotniks

who remained Christian)

.

Among the more well-known descendants of the

Subbotnik Jews

are former IDF Chief of Staff Rafael Eitan, retired Israel Police Northern District Commander Alik Ron, and others.

In the village Freund was approached by an older

Subbotnik Jewish

woman named Tanya who told him all of her family had already made aliyah but she was stuck there because of a change in Israel's policy towards the

Subbotnik Jews

.

In addition, the members of the community said they were suffering from anti-Semitism at the hands of their non-Jewish neighbors. "They handed me an emotional letter they had written the prime minister at the time, Ariel Sharon, in which they requested authorization to make aliyah," Freund said.

"The matter was close to Sharon's heart, and after I gave him the letter he ordered to allow the 20 families who had signed it to make aliyah," Freund added. Among them was Tanya.

---