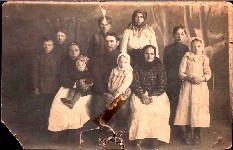 Molokane and Pryguny first moved to Kars province, Turkey, in 1876-77 when this territory was conquered by the Russian Empire. About 1890 the Russian military draft became mandantory for men and 1/3 of all Doukhobors left to Canada by 1900. Some Molokans and many Pryguny with Maksimisty began to leave, originally to Canada but diverted to Los Angeles. (See Berokoff: Chapter 1, The Migration.)

Though the territory was greatly impacted by Russo- Turkish Wars, massacres and genocides, by 1915 less than 1% of all Molokane and Pryguny in Russia moved, about 2500, half of the 5000 predicted at the time to migrate. Some villages in Kars may have lost 10% or more. In January 1919, the first parliament in Kars elected one deputy per 10,000 voters, 64 were elected — 60 Muslims, three Greeks, and one Molokan. (Caucasian Knot). Due to political ethnic cleansing, more Molokans and Pryguny moved to Russia in the mid-1920s (to Rostov), and again in 1959-1962 (to Stavropol', with Turkey's Nekrasovtsy Old Believers). In the 1970s a few families were discovered in Kars and Istanbul by visiting American Jumpers and invited to live in California. Several families remain in Kars today.

In Turkish, Molokan is typically spelled "Malakan".



Help/donations needed to translate many of the followng Turkish articles to English and Russian.



"Erzoom. Letter From Mr. Dunmore, Septtember 1, 1858 : The Malakan Settlement — Religion and history of the People,"

The Missionary Hearald

, Vol. LV, No 2, February 1859, pages 45-46. — "Russians call them Malakan, but they call themselves Dönkhäven Christians." [Dukhovnye khristiane :

Духовные

христиане

]


"Northern Armenian Mission — Turkey. Erzroom. Letter from Mr, Dunmoore, June 27, 1859. : Malakans,"

The Missionary Hearald

, Vol. LV, No 8, August 1859, pages 310-312 — "Of the Malakans, or Donkhaven Christians, I have much to say, yet can write little now."


Armenian-Pryguny: From Kars to Los Angeles, by Joyce Keosababian-Bivin


Kars, son Malakan 1997 — Last Molokan in Kars, 1997, photos by Dmitri Bruhin.


Armenians and Molokans: Karakala, 1870s-1920, by Joyce Keosababian-Bivin, Jerusalem — UCLA Conference on Kars and Ani, Nov. 9-11, 2001


Advertizement for the book:

One Ethnic Group in Kars: Molokan Social Structure

.
Turkey 2005. A republishing of Turkdoghan's Ph.D. thesis published in 1970.


Correspondence with Turkish Historian Erkan Karagöz
e-mail, photos, 5 articles and a book excerpt — in Turkish, some is translated.


The VirtualAni Messageboard — See threads: "Where is Karakala?" started by Joyce Keosababian-Bivin (Israel) Mar 24, 2005; and "Kars area, need Selim contact" started by William Botieff (Oregon) Mar 26, 2003.


Molokan Cemeteries in Turkey Vandalized, October 2006


MALAKAN VASO Defnedildi, PolitKARS.com, April 28, 2007 (Turkish: "Bill the Molokan was Buried", Vasili Gavorilich Korolov)


'Son Malakan'dan trajik veda, PolitKARS.com, July 3, 2007 (Turkish: One of the last Molokans in Turkey died. Vasili Korolov died, Turkish name: Vasil Gavrilev Dölemenci.) Firat News Agency, July 2007. Copied here.


Türkiyedeki Son Malakanlar (Molokans in Turkey)
Malakan Blog , October 27, 2006, 3 articles, 5 photos


Malakanlar KISA FİLMİ — PolitiKARS.com, 20.11.2007
SHORT FILM on the Molokans — November 20, 2007


Sürgün Bir Hikayenin Masum Kahramanları: MALAKANLAR — Çare Olgun ÇALIŞKAN, Ocak 2008 — Turkish: The story of the banishment of the innocent and brave: Molokans, by Chare Olgun Chalishkan, January 2008. 36 photos.


A hidden city under snow (Kars, Trukey) —

Turkish Daily News

— January 7, 2008


Susuz Neresidir? — Turkish: Where is Susuz? [Text mentions Molokans with 5 photos, map.]


Atçılar Haberler — Turkish: Atchilar News (Offline)


Malakanlar — Turkish: The Molokans


Uzaktaki yakınlarımız, süt içici Molokanlar — Kilisesiz Hıristiyanlar: Molokanlar
The milk-drinking Molokans are far yet near — Molokans are Christian believers
(Photo is of a girl in Kochubeevskoe village, Stavropol territory, Russian Federation.)


A Patchwork Land Confronts a Lie of Whole Cloth — Molokans still in Kars,

New York Times

, March 11, 2008.
[

Error in paragraph 16: "...Molokans, also known as Russian Old Believers...", Molokans are not Old Believers.

]


Malakan Belgeseline Ödül —

Kars Haber

, 2008-10-14
Award to the Molokan Documentary Film —

Kars News

, October 14, 2008


'Malakanlar' fotoğraf sergisi açıldı Bilgi İşlem — Kars Beledieisi, 03.10.2008
"Molokan" photo exhibit opens by Bilgi İşlem — City of Kars News Oct 4, 2008


Molokan Friendship Association — Oct 12, 2008


Malakan Belgeseline Ödül —

Kars Haber

, 2008-10-14
Award to the Molokan Documentary Film —

Kars News

, October 14, 2008


Kars'ın solan rengi Molokanlar kardeş şehir Minara Vodi'de —

Blog.Milliyet.com.tr

, 05.11.2008
Photo exhibit of Kars Molokan brotherhood in Mineral Waters —

Turkish Nationality Blog

, November 5, 2008


[Error: Mineral Waters should be Stavropol province.

]


Son Molokan 2007'de öldü! — Hür Haber, 01 Aralık 2008 (Turkish) Copied at Haber Rus (Russian News)
"The last Molokan passed away in 2007" — Hur News, December 1, 2008


Doğu Anadolu'da Kültür Turizmi için İttifaklar, Molokanlar —

Yeni Ufuklar

, Aralık 2008
Alliances for Culture Tourism in Eastern Anatolia, Molokans —

New Horizons

, December 2008


Molokan and Prygun Photo Exhibit, Istanbul, Turkey — November 3, 2008


Doğuştan 'total retçi' bir cemaat: Molokanlar —

Davet Haber

, 30 Kasım 2008
Copy on Facebook: Medyada Malakanlar [Molokans in the media]
Molokans, a community of "COs" from birth —

Entertainment News

, Nov. 30, 2009



Sürgün Bahçesinin Solan Renkleri Molokanlar ve Dukhoborlar —

Ardahan Haberi

, 06.01.2009
Fading Colors of the Exiles' Garden: Molokans and Dukhobors —

Ardahan News

, January 6, 2009


Historical Map - Doukhobor and Molokan Settlements in Kars, Russia, 1879-1899 (Now Turkey)
by Jonathan J. Kalmakoff, Doukhobor Genealogy Website — See all Doukhobor Historical Maps


Turkish Facebook history group: Malakanlar - The Molokans, started April 2009 by Yalçın Inam


MALAKANLAR, 04 Nisan 2009 — ayorum.com (Turkish)
MOLOKANS, April 4, 2009 — ayorum.com (machine translated)


New Movie About Molokans in Kars, Turkey: "Deli Deli Olma" opens April 17, 2009
Lead role is Mishka, a Molokan miller near Kars


Announcements — Large Molokan/Jumper family, about 25 people, moving back to Turkey. — May 26, 2009


Molokans in Kars, video by Yaşayan Tarih (English subtitles) — part 2 of 2, Kanal B, 7:35 minutes — June 16, 2009


"Rus Emperyalizmi: Kafkasya'nın Ruslaştırılması ve Malakanlar", Ludmila Denisenko,


Toplumsal Tarih Dergisi,

Sayı: 187. Temmuz 2009. Sayfa 28-32.
"The adoption of the Caucasus by Russians and the Molokans", by Ludmila Denisenko (a Molokan in Turkey),


Social History Review

, Issue: 187. July 2009. Pages 60-65.


Publisher's mistake:

The photo in page 64 by Prokudin-Gorskii is not of Molokans.


Malakanlar…, Dr. BeEşir Doster, Gerçek Gündem, 1 Temmuz 2009 [Turkish]
Molokans…, by Dr. Beshir Doster, The Agenda, July 1, 2009 [machine translated]


Kars'ın Solan Renkleri Malakanlar, Belgesel Kısım 1-4 (Turkish) — 25 Ağustos 2009
Molokanlar / Molokans : Fading Colors of Kars, (parts 1-4), English subtitles by KuzeyDoğa Derneği (duplicate copy) — August 25, 2009.
Has many errors, corrections in-progress. A 31-minute documentary about Russian Spiritual Christians (

Molokane, Pryguny, Dukhobortsy

) in South Russia and Eastern Turkey. Winner of the Best Documentary Award at the Safranbolu Altınsafran Mehmetcik and Cyprus Mehmetchik Uzum Film Festivals.
— Writer-Director : Yalchin Yelence
— Editor-Animator: Ozgur Yelence
— Scientific and Historical Consultant : Erkan Karagoz
— Recent Footage Historical Advisor : Vedat Akchayoz


Malakanlar - Kars (Kars Molokans) - Turkish video by Yasayan Tarih Kanal B, 7:14 minutes — September 28, 2009 — Turkish transcript — English subtitles.


Kars welcomes Molokan and Doukhobor hetitage tourists to Turkey — September 29, 2009


Kars Photo Album by Dmitri Bruhin, 289 photos from 1951, ~70 showing Molokans (Bruhin, Denisenko, Kancar, Karolov, Yanchenko, ...) — Updated January 20, 2010


Kars : A Journey of Discovery, by Florence Chernoff-Lymburner. Doukhobor village photo story, October 2009. — April 10, 2010


Kars'ın Molokanları ve Doukhoborlar'ına ne oldu? —

31 Mart 2011


What Happened to Kars Molokans and Doukhobors? Research conference, Ataturk University, Erzurum. — March 31, 2011
---