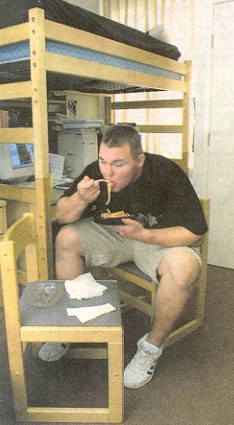 CARLOS CHAVEZ / Los Angeles Times

Eyoseph Efseaff's religion dictates he eat kosher food, and., UCLA's willingness to see to his dietary needs won him over.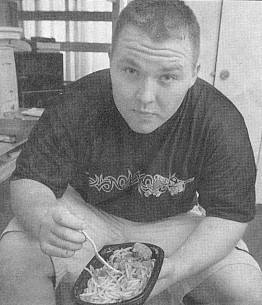 "He's always going a million miles an hour. When he came to camp, when I called the guys over to a spot, he came sprinting up. Right there in my face. That obviously caught my eye."
---- MARK WEBBER
UCLA OFFENSIVE LINE COACH
ON EYOSEFF EFSEAFF, ABOVE
---
Good-Faith Gesture
Bruin Offensive Lineman Efseaff Has Shown an Appetite for School While Strictly Adhering to Religious Tenets as Russian Molokan
By SAM FARMER
Los Angeles Times, Sports D1, D9 April 25, 2001
Eyoseph Efseaff, a rising star on UCLA's offensive line, is an easy to-please redshirt freshman whose simple needs reflect his upbringing as one of eight kids raised on a farm in Porterville, just south of Fresno. But on his recruiting trip to Westwood last spring, Efseaff made a request that sent panicked Bruin coaches scrambling every direction.
He wanted something to eat.
While that might not sound complicated, Efseaff is a Russian Molokan who eats only kosher food. He arrived on campus Friday evening, and all the places serving kosher food were closed for the Jewish Sabbath.
Evening turned to night, coaches frantically worked the phones, and Efseaff's stomach started to grumble. Finally, they found some prepackaged meals from the school's medical center.
"It was big time, the way coaches handled things," said Efseaff, whose full name is pronounced YO-seff EFF-seff. "I had a problem, and they fixed it. They really cared. I remember sitting in the car with Coach [Mark] Webber when they first found out all the places were closed. He had no idea what to do, but he started calling people up and trying to work it out. It was neat."
That not only sold him on UCLA, but it won over his father, Esi, who was never keen on the idea of sending his son to college.
"It took me a year and a half just to talk him into the idea," said Efseaff, who has been starting at left guard during spring practice. "Basically, his concern was the food. He didn't know if they could accommodate me. The trip here convinced them they were able to solve the food problem. There are churches here too, and it's not too far from home."
Esi, who has eight children ranging in age from 14 to 24, is enormously proud of Eyoseph. But he's a little worried about him too.
"We don't want him to just go off where he never comes home again," he said. "Our religion, our people, we're very tight. We want him to marry of his own faith. It's very diverse over there [at UCLA]. We're being very cautious and taking each step cautiously with a lot of prayer."
This much is clear: At 6 feet 3, 195 pounds, Eyoseph isn't going hungry. He has emerged as one of he bright young prospects on the line, and has the potential to start for four years. Regardless, he has no intention of playing pro football. Molokans--Christians who broke way from the Russian Orthodox church in the 1600s--recognize Sunday as their day of rest.
"I'm restricted from playing in he NFL, but that's all right because I'm having enough fun out here," he said. "It's something that know I won't regret. I look at it this way: I've got four more years out here, and I'm going to get everything out of it I can. My fiends are like, 'What if, what if?' But I can live with this. I'm so happy just being here."
He floored his coaches and teammates on his first day of practice in August, when he shut down 311-pound Ken Kocher in a protect-the-passer drill, then body-slammed Kocher when the junior defensive tackle threw a punch. Efseaff, a former wrestler at Monache High, wound up on top of Kocher and ripped off his helmet.
"Most kids aren't going to take on a battle like that," said Randy Taylor, UCLA's recruiting coordinator. "They're not necessarily going to back down and yet they really don't want to go for it. But Eyoseph went right after it."
In the end, Efseaff emerged as something of a freshman folk hero. He shares an uneasy truce with Kocher, still considered one of the team's toughest players.
"We're cool and all," Efseaff said. "But still, if he ever did anything, I wouldn't take it."
Webber, who coaches UCLA's offensive line, said he noticed uncommon energy in Efseaff from the start.
"He's always going a million miles an hour," Webber said.
"When he came to camp, when I called the guys over to a spot, he came sprinting up. Right there in my face. That obviously caught my eye.
"To have that kind of discipline that he has in his spiritual life and his diet and all that, it, tells you something about the man. He's a different young man. He's all business, very intense, and that's just the way he plays."
Efseaff goes to great lengths to plan his meals. On Mondays, he orders all his kosher food for the week from an off-campus service. He stores the meals in the small refrigerator in the dormitory room he shares with fellow freshman lineman Paul Mociler, then microwaves them at all hours.
"That thing's getting a lot of work," he said, unwrapping a container of spaghetti and meatballs to eat before afternoon meetings.
The Bruins have special meals prepared for him on the road and for postgame snacks. During the Sun Bowl week, the team hotel had kosher food flown in to El Paso.
He basically eats the same food as his teammates--everything except pork and shellfish--but the difference is in the preparation. Meats must be prepared and cooked a certain way. He brings paper plates and plastic utensils with him when he travels.
Eyoseph, whose maternal and paternal great-grandparents emigrated from Russia, plans to study the language at UCLA. He learned some as a child, but has forgotten a lot.
Twice a month, his father drives 2-1/2 hours south from Porterville and brings his son home for the weekend. There, Eyoseph reunites with his two brothers and five sisters. There is no TV in the home, and the family sits down together for at least two meals a day.
"It's one of the best interactive families around," said Eyoseph's brother, Michieal, 24, who is married, has a baby daughter and has moved into a home of his own. He runs the floor-cleaning business his father started after giving up farming.
As they did last season, the Efseaffs will give each child a chance to go to at least one UCLA home game this fall.
"I'm honestly so happy for this guy," Michieal said of Eyoseff. "it's really cool, This is his dream. He's getting to do what he wants."