Produce stands are open in West Valley

Produce stands are sprouting up all around the West Valley, offering a smorgasbord of locally grown fruits and vegetables sold the same day they're picked.

Some stands stay open year-round, but many are open only until the end of July, leaving a window of opportunity for people to take advantage of local summer treasures.

Kenneth Sheely, 18, spends his summer selling sweet corn, tomatoes, watermelon and cannery melons at a wooden stand on 99th Avenue between Thomas and McDowell roads in Phoenix.

Sheely said most of his customers travel to the stand from all around the Valley. He said the hottest item he sells during the summer is sweet corn.

Paul Herrmann, 42, drove from Goodyear to the stand Wednesday to purchase a bag of sweet corn and a watermelon. Hermann, a Wisconsin native, said he has bought fruits and vegetables from roadside stands for as long as he can remember.

"The fruit just tastes better, he said. "It's right from the producer, picked fresh. There's really no comparison."

Sheely, of Ahwatukee Foothills, said the produce he sells comes directly from his dad's farm and from other local farmers. More than half of his customers are regulars, he said, while the rest see the stand while driving down the road.

Sheely said his main goal of the summer is to keep the stand stocked with sweet corn, but as soon as it's gone, so is he.

Ephrem Tolmachoff's Garden Fresh Produce Stand is on 75th Avenue, a half-mile south of Glendale Avenue. It sells locally grown cucumbers, zucchini, sweet corn, sweet onions, honeydew, cantaloupes and watermelon. The stand, which has been operating in Glendale for 10 years, sells produce grown on Tolmachoff's farm.

[Ephrem's family sold their farm near the Molokan church and cemetery to developers but kept their mother Jean's house which has a large driveway for the market. He now farms 5 miles to the south on land rented from the retired Arizona presbyter John J. Conovaloff, where he has a second stand. He sells what he grows.]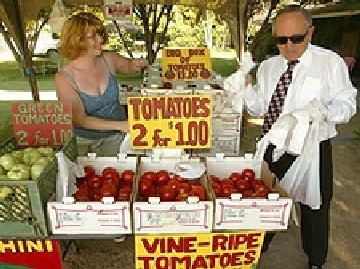 Tomatoes are bright red and a great green at Tolmachoff's Garden Fresh Produce Stand on 75th Avenue Diane [above, Ephrem's wife, formerly Bolderoff (maiden-name) originally from Kerman] and Ephrem also sell cucumbers, zucchini, sweet corn, honeydew, cantaloupes and watermelon. -- If it's tomatoes that you need for that famous marinara sauce, don't forget the sweet onions.


[4 produce stands are listed in a sidebar, including:]
Ephrem Tolmachoff's Garden Fresh Produce
Open: Daily through July 10, then from Oct. 1 to Nov. 10.
Where: 75th Avenue, half-mile south of Glendale Avenue, Glendale


Tolmachoff, 45, a Glendale resident, has been growing vegetables since he was a child. He said he experimented with different kinds of tomatoes until he found the ones he now sells. He described his tomatoes as being like beefsteak tomatoes, but juicier and tastier.

All the produce he sells is picked the same day, he said, unlike the grocery stores, which buy produce that's picked weeks before it's ripe. Just about everyone who stopped at the stand last week left with a bag of tomatoes.

"The tomatoes you buy in the store have no taste," said Gary Graham, 56, of Litchfield Park. "They're hard and unripe, they don't even taste like tomatoes."

Tolmachoff keeps his stand open during harvesting season, from mid-May until the third week of July.

Barbara Ritchey, 81, travels to Glendale from central Phoenix once a week to buy her produce at Tolmachoff's. Her favorite item to buy is the tomatoes, but she usually picks up a bag of sweet corn as well.

"The produce here is so fresh and ripe," Ritchey said. "Once you try it, you'll never go back."