Russian church wins approval
By Verity Edwards

A CHURCH for the north's small Russian Molokan community will be built at MacDonald Park, despite Playford Council staff recommending against it.

Under the proposal, the church would be built in a semi-rural area and set-back 53m [172 feet] from its Lyndon Rd frontage.

City Development manager Matthew Pears said there was a differing opinion on whether the development plan allowed for churches to be built in a rural zone.

"A place of worship is designed to attract people, with people driving to and from there … it's not meant to attract people to a rural zone, Mr Pears said.

Councillors at the DAP were concerned a church would increase traffic, the church could grow substantially, and an increase in noise would bother neighbours.

But Cr Joe Federico thought a church was a strong and important part of a rural township.

"When I was listening to the proposal I was thinking of Little House on the Prairie," he said.

"A church brought people together .. people need places of worship, I think: the setting is idyllic, my problem is with the Lyndon Rd issue (traffic)."

Other councillors raised concerns about noisy weekend weddings and increased traffic if a funeral was held during the week.

The council received four objections to the church, with neighbours wanting to keep the rural character, and concerns about an increase in crime with an increase in traffic.

But arguments in favour of the church benefiting the community and its quiet congregation eventually swayed councillors, with the majority voting in favour.

Church leader Phillip Tolmachoff said alter the meeting he hoped the building would be built by the end of the year.

"We were pleased, we didn't think it was going to be such an issue," Mr Tolmachoff said.

There are 35 famIlies as part of the Russian Molokan community, with the congregation meeting at an Elizabeth South church building.

"We fit, but parking is a problem and we would like a little bit nicer facility and better position," he said.

We only have parking for 10 or 15 cars and it's jammed... it's nicer in a rural setting."

Identity talks to Phillip Tolmachoff, see page 26.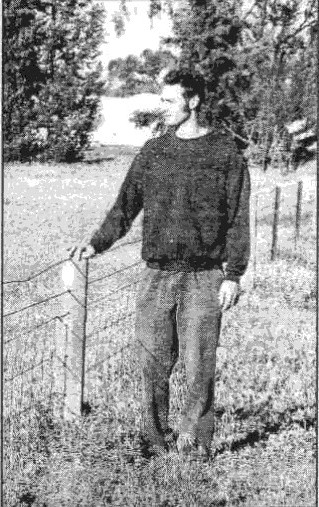 Peter Tolmachoff at the site where the Russian Molokan church will be developed.
[Peter is Phillip's son.]
Identity [page 26]

The Russian Mol[o]kan Christian Church is about to move into new premises at McDonald Park. Church member Phillip Tolmachoff, of Golden Grove, explains thow 35 Russian families came to live in the North.
Holding true to tradition
WELL, you see, most of either our grandparents or maybe even great-grandparents migrated from Russia towards the end of the 19th Century.

They didn't come (straight) here, no. They headed for California and Arizona, the western parts of America.

Most of us left there in the 1970s and came here. We decided we wanted a bit of a change of lifestyle.
To us Australia seemed to be that bit quieter and it was certainly less populated than where we were living. It was a quality of life thing.

So I suppose all up, maybe 130 families mainly of younger people decided to move.

Some settled here in Adelaide and some in Western Australia -- we're all still friends.

Well, why shouldn't we be? After all, we're all part of the same church, we have that in common.

We still hold true to the same traditions in the church that our grandparents had. For instance we still use the Russian language in our church services, and because of that we hold classes in the language out at the Salisbury East High School on Monday evenings. [Last year the Molokan-Jumper Russian school classrooms and teaching materials stored there were destroyed in a fire, but Russian school continued within months.]

So our young people are learning the language. Hey, it's been around for at least 100 years so -- it's something I feel comfortable hanging onto.

I suppose that's just like any other ethnic group that moves to a new area, eh?

You like to keep a little bit of home with you.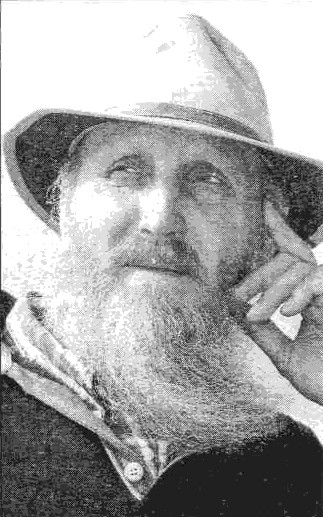 Phillip Tolmachoff: "We still hold true to the same traditions in the church that our grandparents had."
---
The question we ask ourselves now is, where is home?

Some of us occasionally go back to America -- that's where we are from -- although a few people have gone back to Russia just to see their roots.
There's no religious aspect in that journey -- it's not a pilgrimage.

Our grandparents left Russia before the (1917) Revolution and before the religious persecution started.

What we do know is that after the Revolution, those who had stayed behind either assimilated, or were forced into (the new) republic, or they went underground, or they left. [Aproximately 80% in Russia assimilated, much less in the Caucasus; about half in Russia who practiced religion joined the Baptist Union which was founded by former Molokans; and about 1000 families / individuals were able to leave after the revolution, mainly through Persia (Iran) and China. Molokans via China founded a church in Sidney, Australia, before the American-Jumper / Maksimists arrived in the 1960s.]

This move (to McDonald Park) isn't to make us a bigger church or anything -- we are happy with the size we are.

It's just that until now we've been based in a residential [industrial] area with very limited parking.

The owner of the place we've been in told us he had a block out at McDonald Park that he was thinking of selling.

We had a look, saw that it was much nicer for everyone, and decided to buy it.

Hey, were sell-sufficient, we are paying for it ourselves. Why not?